Church History
First Baptist Church of Hammonds Plains was established in 1823. The original church building was erected in 1843, located on lands adjacent to the present facility, in the Baptist Meeting House on the site of the Burying Ground, now known as the Hammonds Plains Baptist Cemetery.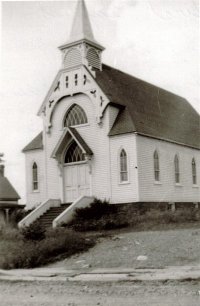 The Baptist Meeting House was built on the site of the Burying Ground, both of which were made possible by a donation of of one acre of land by Mr. Amos Melvin, in 1824. The existing building was erected in the early 1900s in a new location, slightly removed from the first.
First Baptist Church Hammonds Plains officially joined the Association of Baptist churches in Nova Scotia in 1843. According to Dorothy Bezanson Evans in her book, Hammonds Plains the First 100 Years, the first pastor was Rev. Mr. Richardson, who arrived in Hammonds Plains in 1828. She asserts that the Baptist church probably began around that time, and prior to the construction of the meeting house, services were held in private homes throughout the community.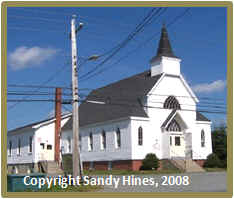 The church became affiliated with the United Baptist Convention of the Maritime Provinces, now called the Canadian Baptists of Atlantic Canada (CBAC). The church has a long and noble history in the community of Hammonds Plains. The church building was expanded and developed over the years to meet the needs of a growing congregation and community. Today it contains the sanctuary, an office, two kitchens, a large hall and a full-size gymnasium with basketball facilities. There is plenty of on-site parking. The facilities are available for rental for special events and to community clubs and organizations. Contact us for availability.
The Hammonds Plains Baptist Cemetery is under the control of the church. Church members and their families may choose to be laid to rest in the cemetery. The cemetery was always known as the Baptist cemetery, however, it was not deeded to the church until 1967. Until that time, many community members were interred in the cemetery regardless of church affiliation.